Yesterday a blog went up on the
Romantic Times
site - a blog that I co-wrote along with the awesome
Fiona Harper
and
Shirley Jump
. We talk about how we came up with the idea of the Holiday Miracles trilogy and what it was like working together. Pop on over for the deets! It was fun!
I spent the better part of 2 days updating my site. It was an EPIC update because each page had to be tweaked - and considering I have a page for each of my books, that's a LOT of pages. There are two new spots for you to visit - one is an "Extras" page, which I'm going to work on building over time. Right now it's got a couple of photos on it. I've got some fun games that are going to be posted, and hopefully this month I'm going to add a video message.
While I'm still waiting for a cover for LITTLE COWGIRL ON HIS DOORSTEP, I did take the time to make a page for it and
posted an excerpt
! I really loved writing the first impression that Avery has of Callum, especially since in my mind Callum looked a little like this: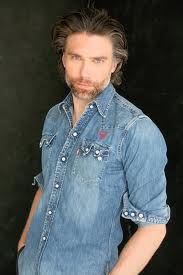 And one final thing - I added four recipes to the
Recipe Corner
so you might want to check that out. I plan on adding a few Christmas ornament knitting patterns soon.
That should keep y'all busy for a bit while I tackle what's next on the old to-do list!