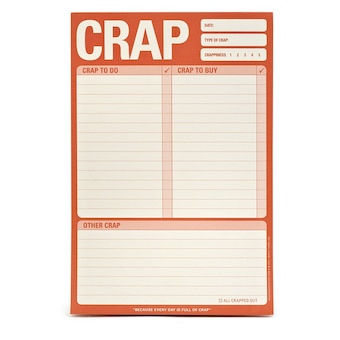 So on Saturday I took my girls shopping and to lunch. Believe it or not, I could NOT decide on a book at the bookstore. It might have to do with having a bunch of "I really want to get to these" books on my shelf. So while they came home with FOUR, I came home with a note pad. Or more specifically, a CRAP pad.
You see, I'm always saying that I have too much crap on my list. Well lo and behold here I can put all my crap on its own crap list. There's crap to do, crap to buy, and other crap. You can even rate your crappiness.
It tickled my funnybone so I bought it. I love it. I've already used it. LOTS.
But it's not ALL crap. I did get a lovely phone call today, with the news that A FAMILY FOR THE RUGGED RANCHER and HOW A COWBOY STOLE HER HEART are both finalists in the
Colorado Award of Excellence
. That's a nice way to start a week!