Working on: Chapter Ten of RBTR
Listening to: nothing - the husband is sleeping after flying all night
I'm also working big time as I NEED to finish chapter ten this week, so I can finish the first draft next week.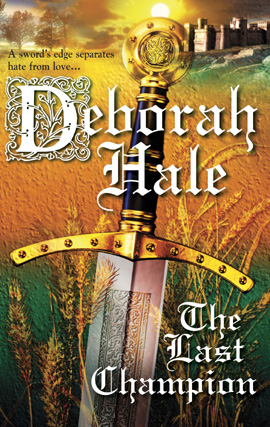 I finished reading Deb's book last night so here's my review:
The Last Champion (Deborah Hale) is a really great read. One, it's 12th century, so it's rugged, a little primitive, with a spunky damsel in distress (who is pretty darn capable all on her own) and a hero riding to the rescue in a Lord and Lady type fashion. Add in a dastardly villian without a conscience and it is very much like the highland historicals (except it's set in the Norwich area and is Norman/Saxon instead of Scots and the hated English). Next to regencies, these are the kinds of historicals I LOVE LOVE LOVE to read. Case in point - one of my favourite books of Nora's is Rebellion.
Two, the construction of plot and motivation is very, very tight. I saw no plot holes, no moments where I got frustrated with the characters (well, except for Armand, but how Deb brought him 'round in the end made it just right). I was swept along nicely and the last third especially seemed to fly by! Props to Deb for constructing such a great story!
I also watched a movie last night, as I have been meaning to for some time. I watched PS I LOVE YOU.
Surprisingly, I didn't cry as much as I expected. I've certainly cried more at movies. That being said - it's a great movie IMO. I did not read the book first (I'm making a disturbing habit of that) but if it is like the movie it's well constructed.
Let's have a look at the cast: Hilary Swank. There were times I heard her voice and it seemed like she was channeling Julia Roberts. I'm generally "Meh" about Swank, and she was fine in this role. Nothing for me to jump up and down about, but she was good. And if they ever do another movie about Judy Garland, she should play it. The combination of the sing along as well as the dresses she wore throughout the movie really branded the idea on my mind.

Gerard Butler. Oh. My. Funny, quirky, accented (thank GOD) and the scene when they first met and he kisses her is swoonworthy. Good choice.
Harry Connick Jr. You know, for the first part of the movie when he was so blunt and blurted things out, I wasn't sure if he was serious, putting on an act, or really did have a mental issue. That got cleared up in the end, but I normally love HCJ and this time all I could think was please don't let him be The Guy. I'll take him in South Pacific anyday.
Lisa Kudrow and Gina Gershon - funny as all get out as Holly's friends. I especially liked it when James Marsters (John) told Kudrow's character why she wasn't married, and the moment of vulnerability on her face before she responded in grand fashion. And the two of them on the trip to Ireland - as a friend I would have wanted to hug them and throttle them at the same time! Great.
Kathy Bates. Nuff said. Her name should say it all, I loved her, and the scene at the end where Holly rushes in crying was the one that really set me off.
And finally, Jeffrey Dean Morgan. WOW. This isn't heart patient Denny from Greys, or the dad of two grown men on Supernatural. This is super sexy hotness that comes with an accent. This is me melting on the sofa every time he came on screen. This is me hoping beyond hope as we got to the end that it wasn't the end. When she offered him a drink and he asked if he should lick it off the counter, I was absolutely, for all time sold. And then he proceeded to pick her up as if she weighed NOTHING (which is close to true). I saved him for last because for me he was the BEST thing about the movie and I LURVED him. He was The Package. For me, he is a Romance hero.
So yeah, I enjoyed the movie. And I'd watch it again. I might even want to pick it up for my dvd library.
The other thing it did was make me realize more and more how much I love contemporary romances and also how much I love relationships with other characters. Even though the focus was always on Holly and the relationship with Gerry (is it with a J or G?) you really got to see her develop through her friends and through her relationship to her mother. It certainly got the wheels spinning.